HAPPY POINTE-A-PIERRE MEMORIES.
A STROLL DOWN MEMORY LANE.
---

To all the Pointe-a-Pierre people scattered all over the world, the friends who did not live in Pointe a Pierre but were part of the great experience, united now only by the fond memories of a time long gone, this page is a first attempt to use the power of the Internet to bring us all together again.
Special thanks to our sponsor

who has provided this space at a very reasonable price so please visit them by clicking on their logo in this paragraph.
It is clear that the "good old days" are gone, never to return, but there is nothing to stop us from getting caught-up, being able to say "Hi" once again, to exchange photographs, good memories and anecdotes, and to let everyone know how you are, where you are, and what you are doing.
Nigel Darwent.
---

On December 10th 2005, we crossed 50,000 visits to this site (at the time of writing 10/01/06), the number is 51,414, 1,414 in one month). From the Site Stats it seems that some 288 individual people have contributed some 387 visits and 16,402 hits for January thus far. If you add this to the 34,000 at the originals site, and the 4,400 to the other subsidiary sites that I used for a while, it means that some 94,000 visits have been made to the site by people who wanted to go back to PaP and the old camps since February 2000 when I posted a few pictures of the PaP Club purely as a learning experience. It ended up six months later with a rapidly growing site, and over 350 entries to the then guestbook, which eventually topped at 525 before it crashed and disappeared. Visitors to the site include people who left PaP in the forties, represents three generations of "Oil Campians", and reflects on what a wonderful time we had so long ago now. As best as I can make out there are about 900 individual IP addresses among the many who visit the site regularly. So, in defiance of the odds, and despite no real changes to the offering from the site, it continues to attract quite a few people given the limited numbers that will have passed through those wonderful times. At the end of the day it came down to people, and I like to think that those of us who were privileged to share this wonderful experience were, and still are special.
---
If you scroll right down.....I mean waaaay down to the original box under the heading Links To Other P-a-P Pages On This Site you will find the gray and black button PaP News. Click it to see some pics of past PaP people recently sent in. Enjoy!
---

SAD NEWS THIS WEEK.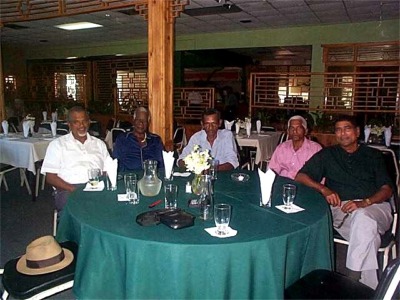 Robin Storey e-mailed in earlier this week with the sad news that ex-barman at the Club Ralph Wilson, known affectionately to all of those who he touched as Ralphie, had passed away after an illness. In the picture above Ralphie is seen at second from left with Amrool "Tex" Ali at left and Jonesy (Dougla) to Ralph's right, Sookhoo and Rampat at the right in the pic taken in August 2000. The good news from Rampat himself and from Stan Soodeen is that Sookhoo is still alive as are Tex and Jonesy. Gool died some time ago. Wonderful guys all of them. Played a part in the happy time of so many of our young lives. Ralphie will be remembered well and our best regards to the rest. In the bad pics below, Ralph, Jonesy, Rampat and Tex as we remember them way back then.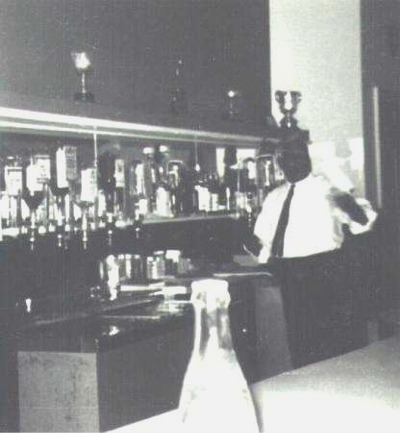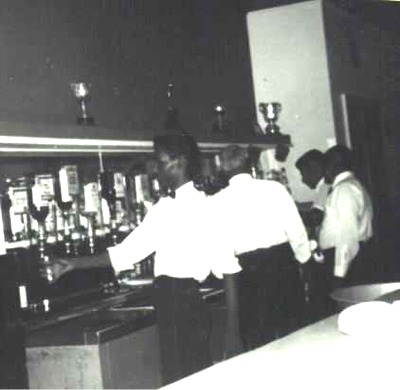 ---

HAPPY NEWS THIS WEEK.
Dominic Da Silva e-mailed in with a link to some lovely pictures he took during a recent visit to PaP. Click on the button below to visit his album and see some wonderful shots of PaP today.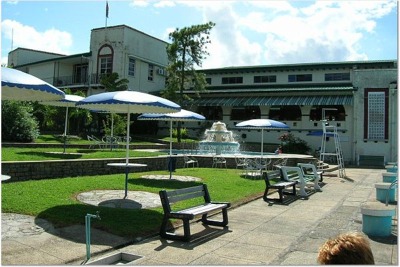 ---

Come visit our yard, see some of the great nature things and our lovely flowers. The yard took a beating from the people who came to cut down a small tree and ended up trashing the main bed, then the pool construction followed by the little flood. But is struggling back up under the kind hands of Dons and Allan. These pictures cover the full four years that we have been here already. The size of the zabooca (avocado) pears seems to have gone down a bit, the ones in the picture are the largest we got. Last year the rains came early and knocked the flowers off. This must have offended the bees and they hardly came around this year.........used to wake me up in the morning with their excited buzzing. Hope they will be back next year. Enjoy!
---
See what Tropical Storm Emily did as she passed just North of us......naughty girl......put down 72mm of rain, about 2.5" in just 40 minutes. Imagine if she had kept up that pace for five hours. Weather station did its bit, it was actually the high rain rate alarm that got us out of bed and go out side to see the water already coming over the storm drain in to the road and starting up in to our driveway. As I went back in to the kitchen to open the gate to prevent it getting pushed over I heard the drain pipe in the sink gurgling and croaking....thought "that's strange" then it twigged and we rushed out to the pool just in time to see the water backing in to the yard through our drains that normally do a great job of taking the water away. This time the water had built up in the storm drain so high that it was higher than the drain so it backed-up in to the yard and our pool!!! Thank goodness we still had power at that time and were able to open the gate which allowed the water to flow out and not build-up high enough to come in to the house which is only about five inches above where the water reached.....whew!!!
---


If you would like to follow progress on the pool that we are building at the side of our house click on the green "Our Pool" button above. It will take you to a Yahoo photo album. Just pics, no commentary.
Same a for a pictorial view of our Tobago 2005, Easter holiday.
Just joined by a pictorial diary of some of the more compelling sights of our week long fishing in Tobago. What no fish pics? Got that right....no fish!!! Click on the Fishing 2005 button above.
---

Click on the "My Weather" button above to get a near-to-real-time view of weather at our home. The rain rate, wind speed and wind direction refresh to actual every 5 minute and the rest every 30 minutes.
Hurricane season is now upon us even though we are having a very dry May 2006. The rainy season officially started on 18th May, but has been very stingy so far.
---
Check the weather at Piarco and Crown Point, Tobago.
---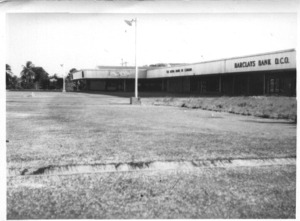 Tropical Plaza as we knew it back then. The "bus" used to go from Lime Avenue to Hi Lo (right down at the far end), past each "bus shelter", turnaround, and head back the other way on a regular scheduled basis. Great lime. The Barclays Bank DCO logo is clear in the right upper corner of this pic kindly sent in a long long time ago by Gordon Armstrong. Tnx Gordon.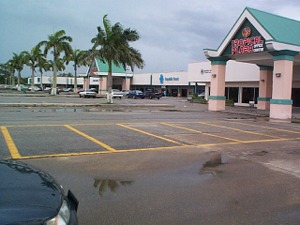 Tropical Plaza, as it is now. The blue logo on the building just above centre is Republic Bank, the successor of Barclays Bank. Hi Lo is still right down at the far end.
---

Visit Diana Plummer's beautiful site all about her past, her art and writings and long lost friends, all driven by the wonderful time we knew so long ago.
---

You must check out Bruce Locke's beautiful and moving site recalling his powerful and moving memories of his time spent in this wonderful little oilfield camp a long time ago.
---

Come with us as Christine Coombes (Denton) meets old friends and visits her old home at PaP.
---

Join us as we party in celebration of the visit of Angela Edwards and Gordon Lloyd, two wonderful ex-PaP people.
---
People have visited this page since 13th May 2000.

35,892 on 28th March 2004
---

The PaP Site

Please sign in!
Trying a new guestbook after a long search...this one seems great!

Regret that I now have to take the link out of the page to avoid the spammers from using the guestbook for advertising their wares. Unfortunately the administrators of the guestbook obviously do not intend to help after three e-mails requesting help, so I'm forced to cut you off from the guestbook until I can figure out a way to password protect it or something. My apologies, but this is the cost of the freedom of the Internet.
---
You can e-mail me

---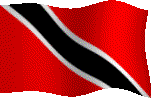 ---
Link to the Tempos' Permanent Site.

Link to the site with Ian Alexander's Pictures

---

The Trini Links site is back up but has been down for a long time and many of the links have changed address or just plain gone off the wire. Trying to take off those not working and add in some new and exciting ones so bear with me.
Visit A Site With Lots Of Trini Links.

The Trini Links button above leads to the related site where you can Visit Tobago, go Down the Islands, walk Mayaro Beach again, see what our weather is like, see a whole host of Trini links to other sites, jump up at Carnival or go to Panorama and lots more Trini things.
---
Links To Lovely Old PaP And Field Pics.

Thanks To Richard Dolman & Bruce Locke.
See some lovely old pics with people we knew taken at the Dubbs plant in June 1944.
---
Links To Other P-a-P Pages On This Site.
| | |
| --- | --- |
| | The most moving collection of old school and boarding house pics. |
| | Lovely pics of PaP as it was then, and as it is today. |
| | Even seen from the air the wonder of PaP is just as strong. |
| | Get caught up on weekly PaP and Trini news and trivia. |
| | You can be part of the mini-reunion recently held in Tobago. |
| | Visit the people of PaP, then and now, on the original PaP site. |
---
Links To Pages On This Site With Other Camps.
| | |
| --- | --- |
| | Happy pics of back then, sad pics of now, see La Brea and Antilles today. |
| | Pics of exciting Forest Reserve as it is today plus some lovely old school pics. |
| | The romance of Guayaguayare is as powerful today as it ever was. |
---